How it works
System description
The system is intended for long-term monitoring and recording of the state of health of the individual trends in the home environment.
The system connects intelligent sensory components (eg. biometric bracelet, electronic scale, intelligent fridge, etc.) with an application that automatically collects measured data and enables their subsequent analysis. The individual components are freely combined according to user needs, or based on previous consultation with a specialist (doctor).
Custom-built set of components provides the user complete overview of selected vital signs. The measured data are effectively visualized in graphs and enables effective usage in therapeutic treatment of a variety of diseases as well as in an increased interest in a healthy lifestyle.
Application description
This application combines the basic sensors for blood pressure, heart rate, blood glucose levels, physical activity, weight, bioimpedance and many others, and the ICT infrastructure in the information portal for users, patients and physicians. Based on smart algorithms, the application performs trend analysis and classification of different parameters. The innovative aspect of the whole solution is also effective classification of users activity.
Benefits of using
For chronically ill patients (eg. diabetes mellitus)

promotes self-management of individuals
enables remote monitoring physician
more precise treatment

For healthy individuals

helps with adherence to a healthy lifestyle and personal health
Model situation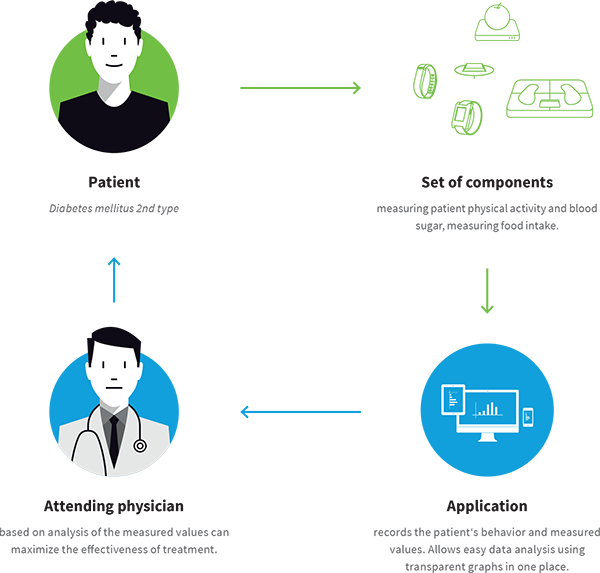 Availability
Releasing the application for diabetics is scheduled for Q4 2015. Other versions will follow. Applications will be available for download on the Web website (www.telebit.cz) and online stores (AppStore, Google Play, etc.). A sample version will be available free of charge.
Contacts
Commercialization and sale

Vojtěch Malina

Project Manager

Jan Kašpar

Applications for diabetics

Jan Mužík
Telebit team / Who are we
The Telebit team consists of leading experts from medical and technical faculties in the Czech Republic, experts in telemedicine from Norway - Tromsø, programmers, testers, consultants and students. We have long term experiences in interdisciplinary collaboration on the border of medicine, techniques and technologies to enhance personal health.
The project is implemented under financial support Operational Programme Research and Development for Innovation. Project Title: Support for pre-seed activities outside Prague Charles II. Project registration number: CZ.1.05/3.1.00/14.0299.